September 2023 Patreon & News post: I GOT MARRIED, Recording is COMPLETE for Better Than The Book's upcoming album, more guitar videos + more!
Yo yo yo everyone and hope you've had a GREAT August! It's the beginning of another month and time for more updates and rewards, and there's some HUGE project and personal ones over here to share this time! Let's get straight to it!
Firstly, a HUGE personal update as on August 19th, Eva and I celebrated our 10th anniversary together by getting married! After a quick mini-moon break, we had an amazing party the following weekend with heartfelt speeches, some mosh-pit and dance floor madness, and competative wedding games including one of my best friends (and DJ for the night) racing to eat some super spicy noodles! I can honestly say it was the best day of my life! What adventures will be had next? We'll have to wait and see :) Thanks so much Eva for being in my life and now being my amazing wife! I love you soo much!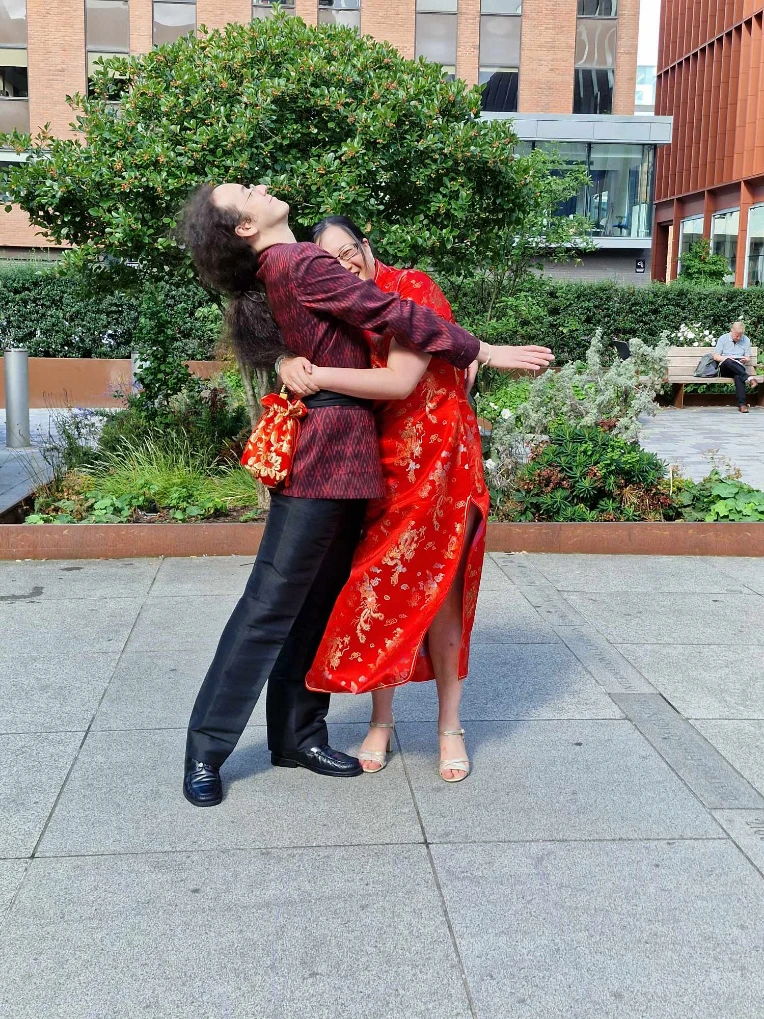 A shoutout to Vlad from World Beyond who shared a post about the special occasion on the World Beyond blog and bilibili too! Thanks for the amazing and kind words Vlad!
I've known Nick Standing since the track Mountains of Gold for which he kindly agreed to record acoustic guitar back in 2013 on Newgrounds. I was so impressed by his guitar composition Mayhem Market that I couldn't think of a better musician for that role and I'm happy to say that he only excelled at his craftsmanship several amazing albums later as Better than the Book, Jabun and guitarist and a member of World Beyond. I am happy that Eva, the most caring, smart and hardworking person I've encountered, and Nick, a real gentleman whose openness, honesty,  skill and expertise are inseparable traits, met each other and became a couple.    


Dear Eva and Nick! We all come from the stars and therefore, no matter the distance, we will always be connected through them. Please accept my most heartfelt congratulations on your wedding! May the future hold enough meteors to grant you any wish you might ever have! It brings me great joy to know little sky gems like you two always look after each other!    


Check out the song by Better than the Book -1314 which Nick wrote to propose to Eva (and she said YES!) betterthanthebook.bandcamp.com/album/1314-single


- Vladimir Kuznetsov - World Beyond
https://www.worldbeyond.net/2023/08/eva-and-nicks-wedding.html
https://t.bilibili.com/831672098498805767#reply181899378608
Meanwhile just before heading off to get hitched, I FINALLY finished tracking and recording for the upcoming Better Than The Book album! 10 tracks + 4 bonus tracks are now fully recorded and just awaiting some final editing before mixing! I'm hoping to get at least half of that editing done this month, but the biggest album hurdle (recording) is now complete! Still no ETA for release but it's slowly but surely getting there! I'll be taking my time to make sure this is worth the wait!
Finally for this month, there's another load of YouTube videos for the new regular posting habit! Check out the updated playlist below:
https://www.youtube.com/playlist?list=PLWEmqIhrNPvQTBoOjZdKLgL4ecTvLz6sm
And here's a list of the new additions since last time! I especially enjoyed experimenting with different alternative tunings! They really do draw me to different ways of thinking/playing:
Clean(ish) tone demo Fender Mini '65 Twin Amp + homemade spring reverb
Clean tone demo Fender Mini '65 Twin Amp + homemade spring reverb
Iron Maiden - Dance of Death (2 parts on 1 guitar Intro cover)
I tried FACGCE Tuning on guitar for the first time. I like it!
Bass Tapping Practice on Sterling by Musicman SB14
Home made rotary speaker cabinet demo with Yamaha YC-25D organ
Testing out CGDGBD (DAEAC#E) Tuning. It's very nice!
CGDGBD (DAEAC#E) Tuning for METAL. Must investigate further...
Acoustic DADGAD 2 Hand Tapping Guitar idea (T-cophony inspired)
That about wraps things up for this month, unless you're a $10+ patron in which case you have a fully recorded demo of "Rewrite" from the upcoming Better Than The Book album to look forward to! It's going to be a busy month of BTTB editing and guitar video recording (and wrapping up the post-wedding tasks), and hopefully I'll finally get some time to finish updating the JabunAudio website too! We shall see. Until next time, I hope you enjoy the new videos and music and I shall be back at the beginning of October with more updates! Thanks as always for supporting me and my various projects and take care!
1 Rewards: https://www.patreon.com/posts/86950958
$10 Rewards: https://www.patreon.com/posts/86950959
Reward Archives: https://www.patreon.com/posts/50344842
Find out more: https://www.patreon.com/NickStanding