Hi fellow Newgrounders,
Today I had the honour of being made Newgrounds "User of the Day" so it seemed like a good time to make a long overdue update post! Thanks so much for the support and I look forward to releasing more music and being involved with more collaborations on Newgrounds soon!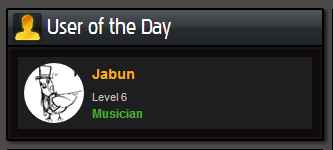 First thing to say is, I have definitely not left Newgrounds or stopped making music, and while it may seem like I've been absent from uploads I've been keeping up with things regularly when I can. Over the last few months, amongst other collaborations which are close to fruitition, I've been working on my 2nd full-length album as Better Than The Book, which is all written now, and due to start recording in this coming month! You can find an instrumental demo of one of the upcoming tracks Meteor Shower here, and the album is due for release summer 2018. Get ready!
I've also been releasing weekly cover songs on YouTube, but since NG no longer allows cover songs (to the best of my knowledge) I've been unable to share them here. Please visit my YouTube channel for 13 covers so far with another 5 to come up until mid-March (as scheduled so far). They come out at 12pm GMT on Wednesdays and so far been comprised of mainly Blink-182 as well as some Alice Cooper and Pink Floyd, with Buffalo Springfield, The Mighty Mighty Bosstones, Johnny Cash / Nine Inch Nails, Linkin Park and Zebrahead to come! I hope you enjoy them :)
Lastly this week, after many months of putting it off I've finally finished my audio services website JabunAudio! 
Specialising in Digital Mastering for music, Animation Audio Post-Production, and Session Guitar & Bass playing, JabunAudio offers a variety of services for musicians, filmmakers, animators, game designers and other people who work with audio on a regular basis. For examples of my work, please explore the JabunAudioPortfolio and Services webpages, and if you require any audio assistance whatever the project size, please don't hesitate to send me a message, and we can work together to provide an outstanding and engaging audio experience for your project. I look forward to working with you. 
That's about all to report for the time being, but I look forward to uploading the new Better Than The Book album here when the time comes and until then will keep up with Newgrounds goings on when I can. Thanks again for all the support over the years and hope you have a good day if you're reading!
Keep those horns blaring,
Nick Standing (Jabun)